What's the issue?
The Service Agent Training Program is a professional development format for Berlin administration employees which was developed in cooperation with Prof. Daniela Hensel / why does robin and Johanna Götz / studiovorort and is designed and implemented in cooperation with Prof. Daniela Hensel / why does robin. The training program enables administrative staff to design processes using service design methods.
The aim is to equip them with a broad toolbox of methods that they can then go on and apply to other projects. In this way, the project aims to help bring about a cultural change in the administration.
How will the whole thing work?
In the fall of 2020, the training program was run for the first time with 14 Berlin administration employees. It involved so-called business process managers who are responsible for redesigning processes in the Berlin administration.
The training program was broken down into eight modules including such aspects as service design basics, interviewing, prototyping and target-group-appropriate language. The focus was on both existing and new processes, drawing on the newly learned methods to run through these processes and improve on them.
The eight modules at a glance:
Service design and user orientation
The user perspective
Bringing together different perspectives
User survey
Drawing on user experience, exploring room for maneuver
User-centered language
Prototyping
Presenting innovation projects convincingly
Sections of the Miro board on which work was done during the training course.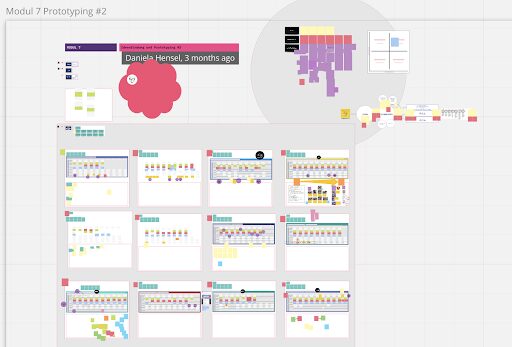 Conclusion and next steps
The diaries are currently being analyzed and the shadowing concept is being developed together with the citizen center vocational training department and the management of the Citizens' Office.
The Service Agent Training Program was a great success in that it enabled participants to look at future tasks and projects from different perspectives and focus more on a user-centered approach. In particular, the challenges currently facing the state of Berlin in many areas can be better understood and tackled by applying methods drawn from service design.
Together with Prof. Daniela Hensel and Johanna Götz, we at CityLAB Berlin were able to successfully offer an initial prototype of a possible service design training course for administrative staff and we very much hope to be able to develop a way of offering this type of training on a more permanent basis soon. For this purpose, we are in contact with potential partners who are able to elaborate the program further and take care of its delivery.
Kontakt
Webseite