The Berlin Senate Chancellery and CityLAB Berlin provided a presentation of their work at a joint booth at re:publica from June 8 to 10, 2022. In addition to the current status of the strategy "Gemeinsam Digital: Berlin", the five pilot projects being run under the Berlin model project Smart City were showcased, two of which have already been launched.
900 speakers, 500 sessions and around 21,000 visitors attended this year's re:publica. After a two-year pandemic break, the three-day Festival for Digital Society 2022 took place live and in person once again – but at a new location, namely on the grounds of Arena Berlin. The Smart City Unit of the Berlin Senate Chancellery and CityLAB Berlin were also represented with a joint stand. Here, the five pilot projects being run under the Berlin model project Smart City put on presentations and discussions. The focus was also on synergies – after all, Smart City brings together urban development and digitalization and promotes collaboration between different sectors and actors. "The aim is also for the projects to learn from each other how Berlin can become sustainable, community-oriented, resilient and cooperative in very different areas," said Dr. Angela Jain, who is overseeing the pilot projects on behalf of the Senate Chancellery.
Two of the projects, the pilot project Smart Space Hardenbergplatz and the project Data & Smart City Governance are already under way, so here it was possible to present the first empirical data and discuss this with visitors. The three other projects – Smart Water, Data in Everyday Life and Crisis – Kiezbox 2.0, and Smart Participation/Citizen Budget – are scheduled to be launched by the fall of 2022.
At the meeting at re:publica, it became clear to all those involved that there are many ways in which the various projects are linked. Kiezbox 2.0, for example – which seeks to secure an independent communication network in the event of a crisis – could also be used to measure environmental data on a day-to-day basis. Likewise, it could be used as a digital bulletin board for neighborhood communication, said Rita Jordan of Technologiestiftung Berlin, representing Kiezbox 2.0, and Ines Schilling of the Treptow-Köpenick district, where the Smart Participation/Citizen Budget project is to be launched.
The pilot projects aim to support implementation of the strategy Gemeinsam Digital: Berlin, which the state of Berlin is pursuing through late fall 2022 with the close involvement of urban society. The process is supported under the Smart Cities model program by the Federal Ministry for Housing, Urban Development and Building (BMWSB) and KfW Bank. At the start of the new legislative term, the Berlin Smart City strategy was merged with the Berlin Digital Strategy, which is also currently being established. The new title of the strategy is: Gemeinsam digital: Berlin. The implementation phase, which includes the pilot projects, runs until the end of 2026.
The entire model project is being managed and coordinated by the Senate Chancellery. One cornerstone of all the pilot projects is a close link with the administration in order to ensure later continuation as well as the participation of urban society. One particular concern in involving actors from administration, business, science and civil society in the projects is to incorporate the user perspective.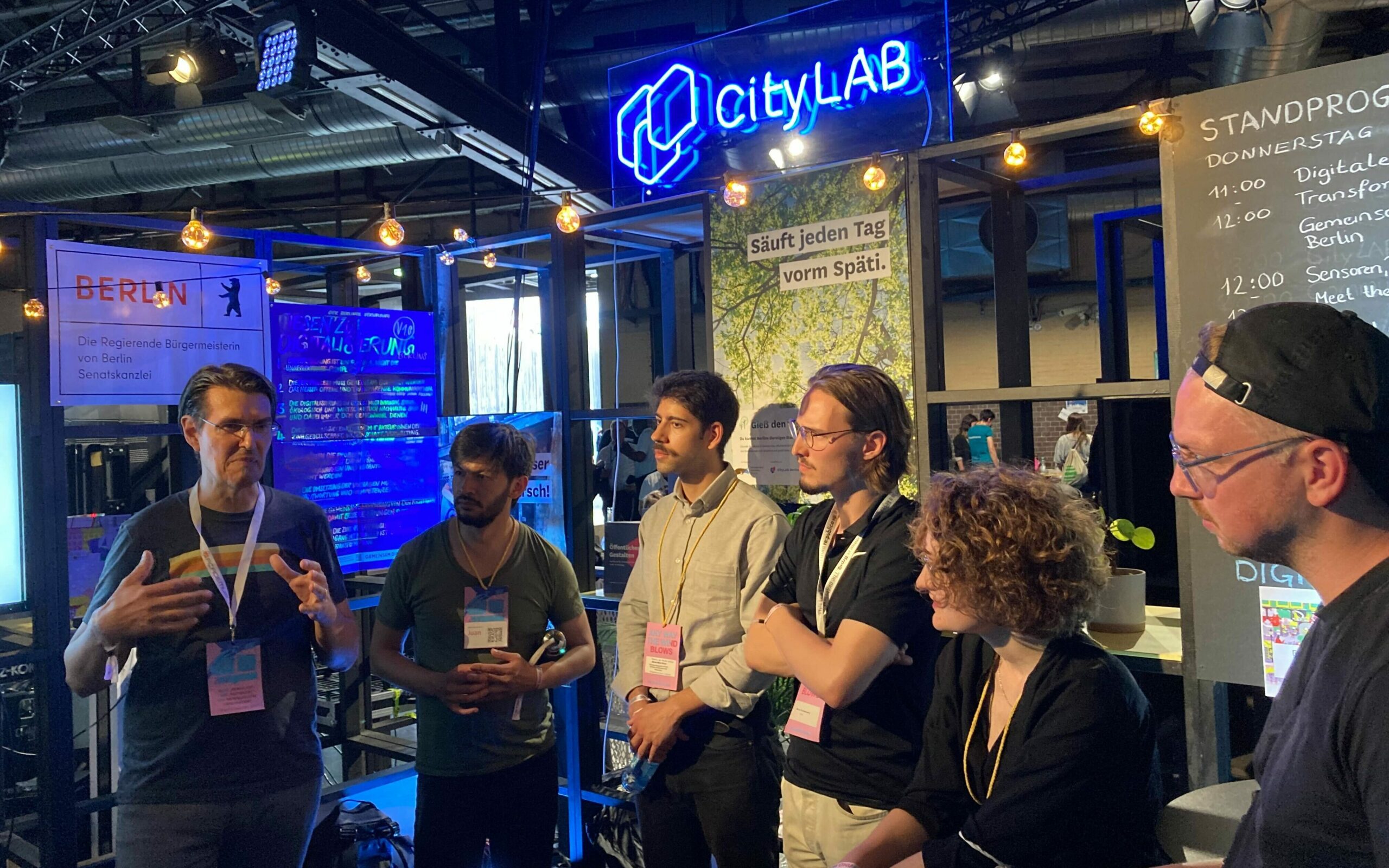 Photo: The stand at re:publica run jointly by the Berlin Senate Chancellery and CityLAB Berlin
The five pilot projects under the Berlin model project Smart City
Smart Space Hardenbergplatz
Running through 2026, this project aims to test flexible usability and the efficient management of public space. An operator model is to be developed that is oriented toward public benefit and is transferable to other squares and towns or cities. A digital negotiation platform will enable a wide variety of uses for the street and sidewalk, improving interconnected mobility with sharing schemes, and increasing quality of stay by means of pop-up interventions, for example. Smart Space Hardenbergplatz pursues a transdisciplinary approach that brings together administration, business and science.
Smart Water
Rainwater management in general and green and blue infrastructure in particular can significantly mitigate climate impact and bring additional qualities to the city. This project aims to enable agile planning of rainwater management and therefore climate-friendly urban planning, as well as raising residents' awareness of the potential of rainwater management through visualization.
Data & Smart City Governance
How can municipalities and technology companies work together fairly on the issue of data use? On the one hand, this project is developing data governance concepts inductively (on a bottom-up basis) starting from the use case of a data-driven air quality management tool. Deductively, we are also evaluating (on a top-down basis) existing governance principles in the area of smart city, corporate and data governance.
Smart Participation/Citizen Budget
In the context of participatory processes, interests tend to be distorted by a low level of participation. Stimulating, digitally supported methods of participation and new forms of interaction are to help reach more people and a more diverse spectrum. The pilot district is Treptow-Köpenick.
Data in Everyday Life and Crisis – Kiezbox 2.0
A crisis-proof local communications infrastructure is to provide resilience in an increasingly digitalized city and support the disaster response as needed. In the event of a crisis (e.g. a power outage), the Kiezboxes 2.0 can, for example, act as solar or battery-powered hotspots to form an emergency wireless LAN system that provides local information to the population. The pilot district is expected to be Tempelhof-Schöneberg.
Related links:
Smart City model projects in Berlin
Public knowledge repository on the Berlin Smart City strategy processPress release issued by the Charlottenburg-Wilmersdorf District Office on the project Smart Space Hardenbergplatz at re:publica 2022