What is the Kiezlabor?
From an old shipping container an energy self-sufficient Tiny House was born – the Kiezlabor! Our target group: EVERYONE – young, old, with a digital affinity or not! The essential thing is that you want to meet the big and small challenges of the present with courageous ideas and sustainable visions for the future. Under the motto "Without you, we're just a container", the Kiezlabor brings the prototypical approach of CityLAB to the Kieze of Berlin and invites you and your neighbourhood to explore and help shape the potential of digital transformation together. The Kiezlabor is an open space that serves as a workshop area, a stage, an interactive exhibition, a networking forum or simply as a place to have a cup of coffee.
The Kiezlabor is a project of CityLAB Berlin and the Technologiestiftung Berlin, with special support from the Senatskanzlei, and is being implemented as part of the digital and smart city strategy Gemeinsam Digital: Berlin. At the same time, we do not want to claim the Kiezlabor for ourselves exclusively, but would like to share it with other representatives from civil society, science and administration.
Kiezlabor meets Marzahn-Hellersdorf
We are already full of excitement for our grand finale, our last location for this year and say: Marzahn-Hellersdorf, here we come! From 16.10. to 22.10. we will be on Alice-Salomon-Platz and are currently putting together a colourful programme with the focus on "Shaping the city together"! One thing is already certain: we want to redesign Alice-Salomon-Platz in a climate-friendly way together with visitors and develop new ideas and visions for the square with the help of 3D artificial intelligence and our modular furniture system. We will also explore the concept of a transfer campus together with the Alice Salomon Hochschule Berlin!
More information about the programme will follow!
Schedule
Where is the Kiezlabor right now?
Future locations of the Kiezlabor:
In the course of 2023, the Kiezlabor will open its doors at presumably four locations in Berlin and stay there between one and two weeks at a time. During this time, a variety of event formats will take place on site, where Berliners and initiatives from the neighbourhood will meet the public administration. The local approach is essential: the Kiezlabor wants to learn not only with, but also from the neighbourhoods and offers an exchange about local needs and challenges of the respective residents. At each of the locations, we therefore choose a theme for which we plan a suitable programme.
Here you can find our next locations:
Marzahn-Hellersdorf: Alice-Salomon-Platz, 16 to 22.10.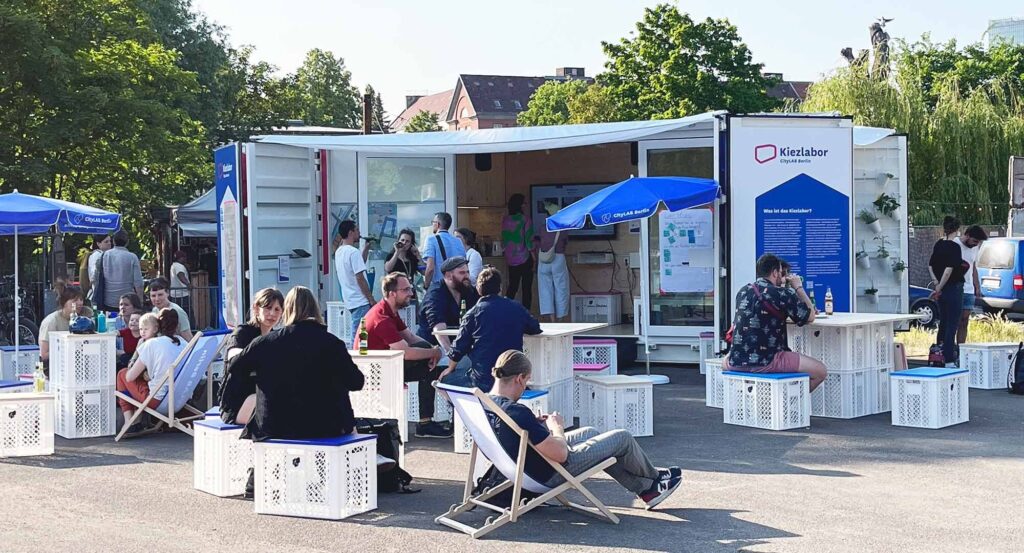 What happened so far:
At re:publica 2023 and beyond, we tested the Kiezlabor in a beta version for the first time in front of an audience! For a fortnight, we stood near the festival grounds and wanted to create a meeting spot for visitors on their way to the event as well as residents of the surrounding neighbourhoods on a daily basis.
Kiezlabor meets Tempelhofer Feld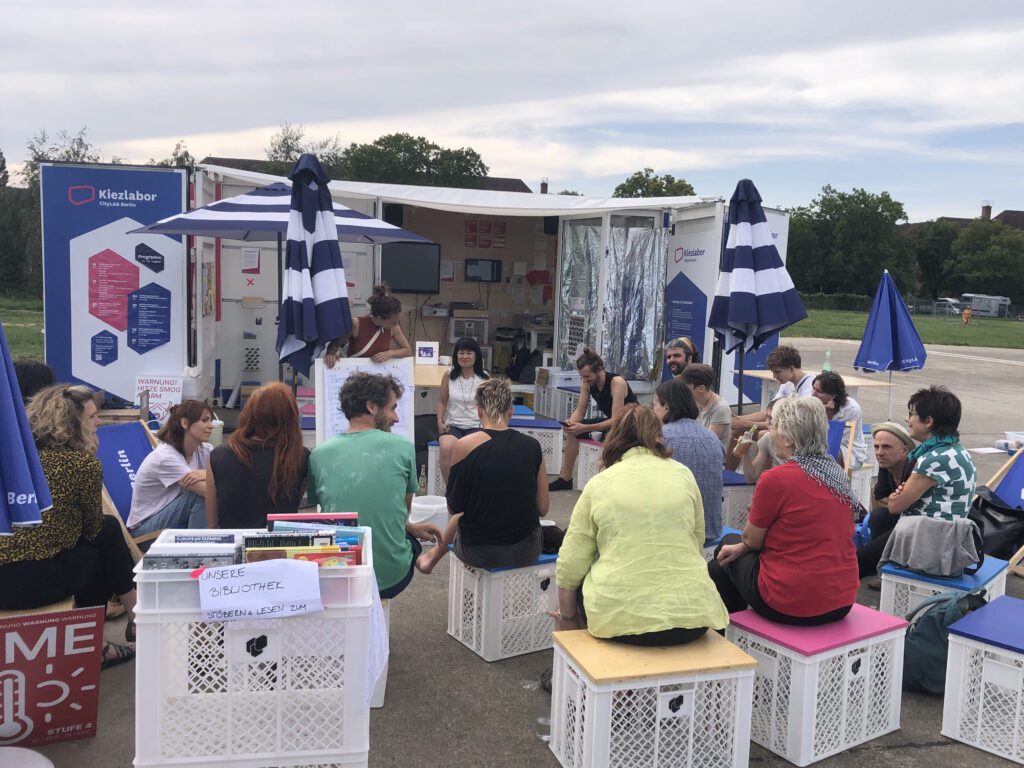 After the first test run and the spectacular opening at our Sommerfest, Berlin's most charming Tiny House for digital transformation took up residence in one of the most magical places in the entire city – Tempelhofer Feld! For a good two weeks, from 17 to 27 August, we set up camp in the southwest of the airfield towards Tempelhof. This time, we had a diverse programme in our luggage that focused on the challenges of climate change for urban space!
Kiezlabor meets Graefekiez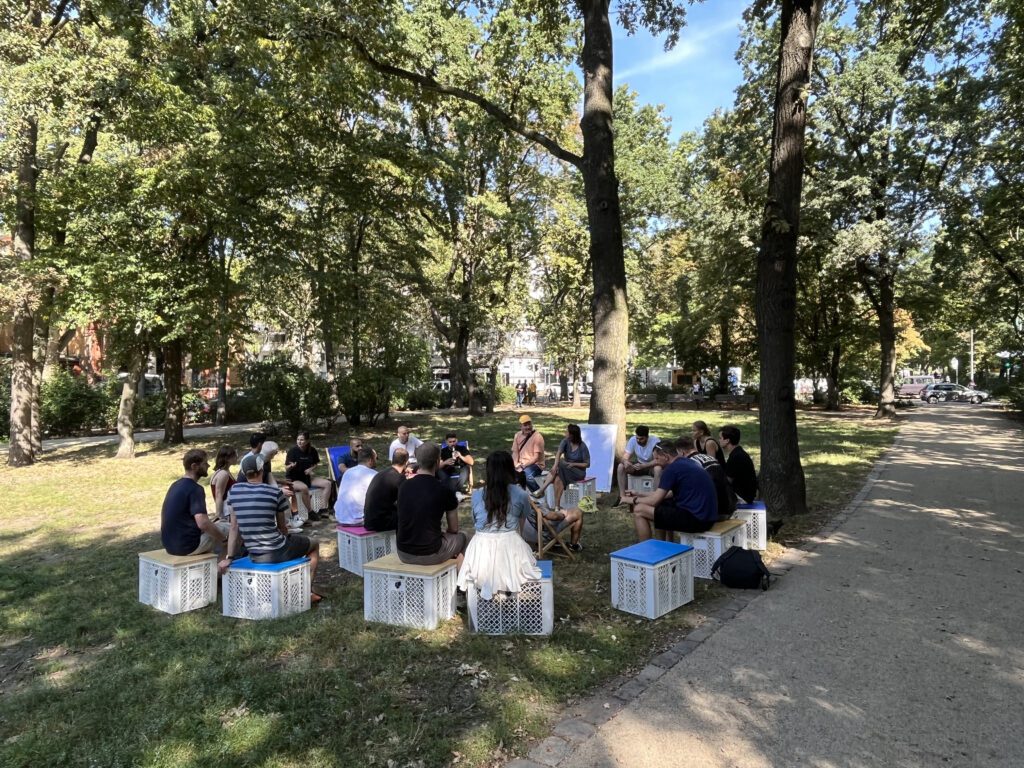 The Kiezlabor continued touring through Berlin! The next location was in Graefekiez in Friedrichshain-Kreuzberg on the topic of "space in the city". As part of the Berlin Volunteer Days, we invited people to exchange ideas about new mobility concepts and fair use of pavements for young and old. A special highlight was an artistically talented robot that painted with chalk!
How can I participate?
Your organization, your company, your initiative and you are interested in working with us at one of the planned locations? You need an event space, a workshop opportunity or a meeting room during the time we are with you? You have an idea for a collaborative event in the Kiezlabor, where we work out solutions for Berlin together with residents?
At this site, we will publish the topics for each location in a timely manner. Feel free to contact us with suitable proposals for events, workshops, exhibitions, participation, etc. for a specific location by answering a few questions in this contact form. We will be looking forward to hearing from you!
Contact
Press
Laura Schubert (Head of Communication & Public Relations / Press Spokesperson)
Tel.: +49 151 1434 0237
Pia Gralki (Team Leader Communications CityLAB Berlin)
Tel.: +49 175 6995 931