After the drought of the century last year, we've now all had a first-hand experience of how the climate crisis can impact on cities. The effects are particularly visible if we look at our green infrastructure: Parks are more yellow than green in summer, and the canopies of many a tree look fragmented and withered. With its scheme Gieß den Kiez! , CityLAB Berlin created an interactive platform back in May 2020 to help Berlin's urban trees and support the city authorities in watering the trees through voluntary work on the part of civil society. After just over three years, we now venture to look back and share the stories of three other cities that have introduced Gieß den Kiez.
First steps and launch in spring 2020
When CityLAB was founded in the summer of 2019, our team consisted of just a handful of people with the goal of using exploratory prototyping to make Berlin an attractive, participatory and innovative place. Right from the start, the use of open-source software and open data was a key factor and was always taken into account in the brainstorming of new prototypes. The deteriorating tree population didn't go unnoticed by our colleagues, and so the decision was quickly taken to take action to help Berlin's green infrastructure! Drawing on the open, urban tree registry, weather data from the German Weather Service and pump locations marked in Open Street Map, an initial prototype was created after a short development period: The neighborhood tree-watering project Gieß den Kiez was born. Gieß den Kiez seeks to support the city administration and committed citizens in coordinating watering activity, thereby protecting the city trees in the long term.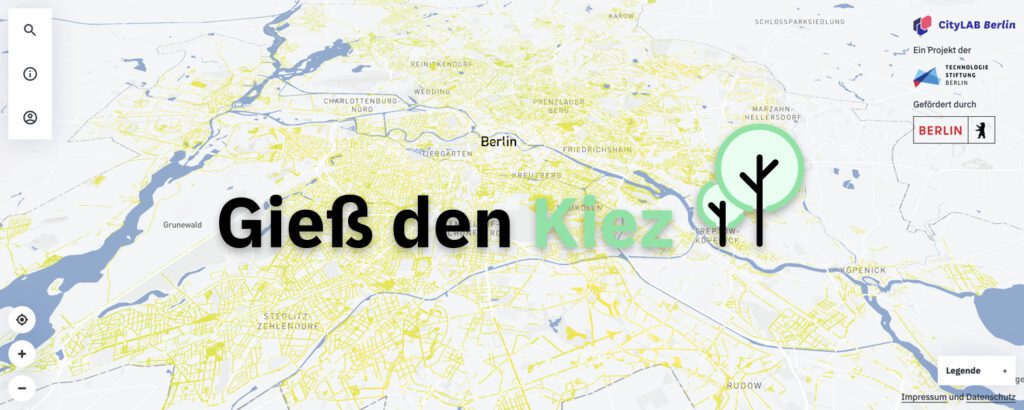 In the first week after the launch alone, www.giessdenkiez.de recorded almost 20,000 visits and almost 1,500 tree waterings using more than 36,405 liters of water – all of which was entered in the app by users. Admittedly, some of the visits and waterings were triggered by our development team. Nevertheless, the euphoria surrounding the project didn't subside – and not for the coming months either – on the contrary! In the summer of 2020, as a result of close dialog on the topic of urban trees, we were mainly supported by the nature conservation organization BUND Berlin, the tree scheme Lieblingsbauminitiative, and the Senate Department for the Environment. Not only did we learn a lot about arboriculture – the protection, care and sustainable development of trees – we were also able to share this expertise with our community of 1,500 users. Gieß den Kiez was mentioned by the local press in more than 40 print, blog and radio articles, resulting in numerous visitors coming to our watering event as part of the Berlin Volunteer Days in the late summer of 2020.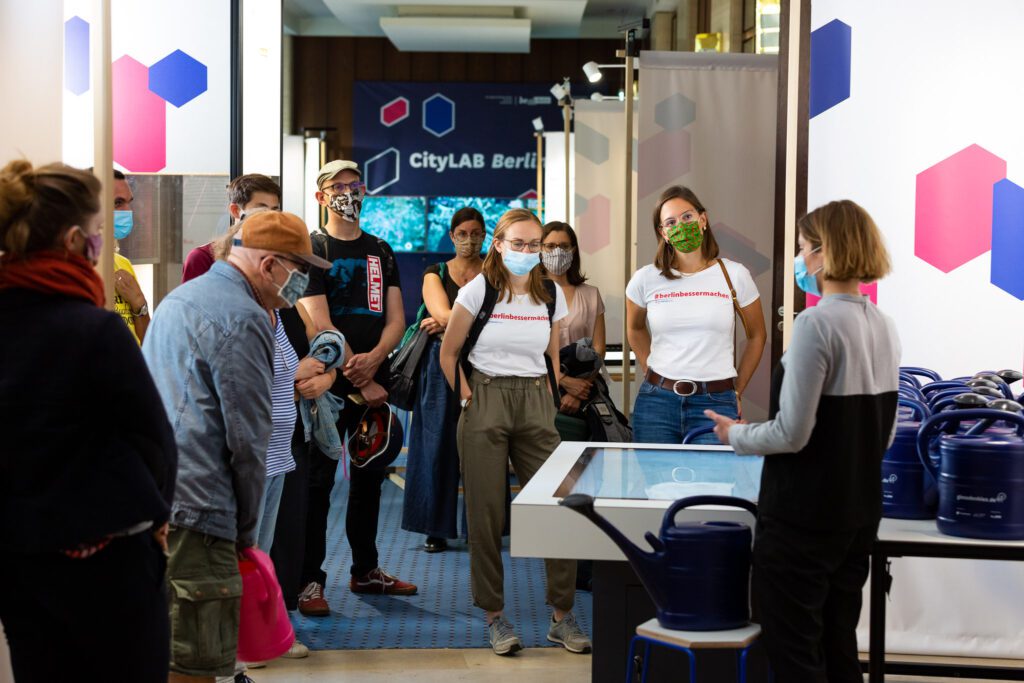 A prototype comes of age
Work on Gieß den Kiez progressed in great strides in 2021. Among other things, we contributed two challenges to the Berlin Water Hackathon and as a result of a development sprint in the spring we started the new year with several major technical improvements to the app. Based on community feedback from Berlin residents, the map layout was improved, mobile navigation was simplified by introducing geolocation (each tree was given its own URL ) and the Stacked Bar Chart was launched. Since then, the latter has been used to visualize watering quantities for each tree not just as a list but as a diagram, too. In addition, the trees that are already being watered by the Parks Departments were given Caretaker labels in the app – as in the case of the Friedrichshain-Kreuzberg district, where over 1,700 trees are already watered in this way.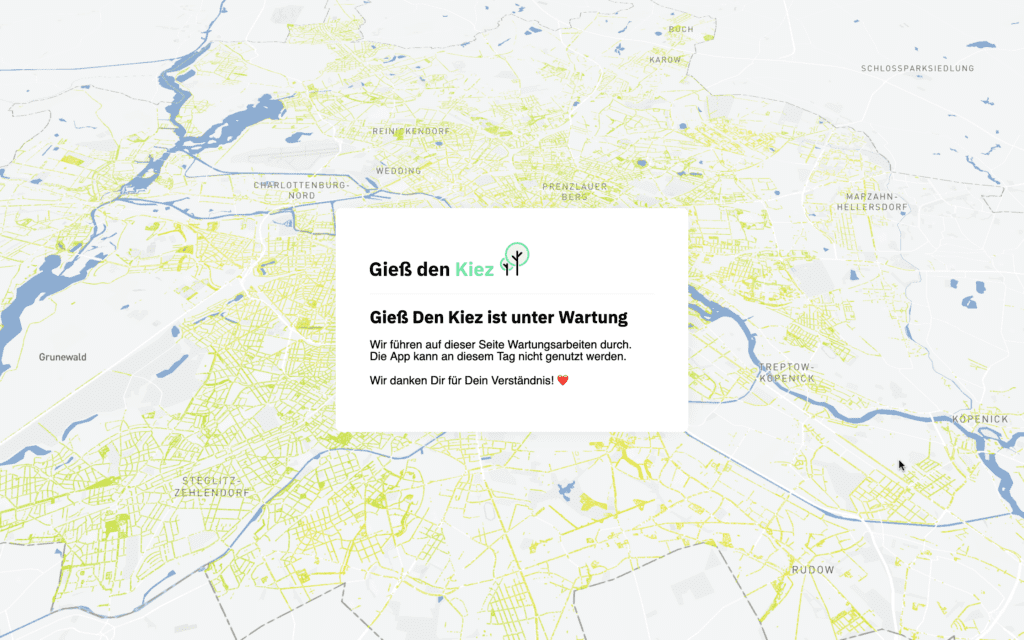 As these improvements were added, Gieß den Kiez grew out of its infancy to become a robust and versatile web app. And that's not all! The app saw ongoing improvement in 2022 as well. Probably the two most elaborate but most frequently requested features were implemented. For example, the app now loads much faster and consumes only 10 percent of the data traffic (click here for the blog article). Since then, users have also been able to adjust the quantity and date of their waterings in the app and enter waterings in the app at a later date.
Gieß den Kiez in Saxony
As nature would have it, watering trees is a seasonal business. While in winter the trees hardly photosynthesize – and our community is asleep, too – in the first year after the launch, i.e. in spring 2021,we entered the next round with a big surprise: Leipzig Gießt was launched! At the initiative of OK Lab Leipzig and later in cooperation with the foundation Stiftung Ecken Wecken, our open-source code on GitHub was used by Leipzig to implement an almost identical platform for their own city. While Max Brauer and Jörg Reichert of OK Lab Leipzig had become aware of the project via GitHub back in 2020, those involved in the Tree-Friendliness Solution team at Stiftung Ecken Wecken were also starting to make their views known:
"People weren't happy with having to laboriously maintain their watering activities in a Google Sheets document […] and I thought it would be fascinating to redeploy an application for once that wasn't just a passive website but a true participation platform."

Jörg Reichert, OK Lab Leipzig
A short time later, there was a meeting in Leipzig involving Stiftung Ecken Wecken, representatives of the city's Parks and Water Department, and regional environmental associations – this ensured that the experts were on board. Even though the Leipzig city authorities didn't want to host the platform itself, it was clear that the open tree registry was well suited for use in the app, so the powers-that-be definitely wanted to join forces with the initiators to support the project, both technically and in terms of content. In addition to technical implementation, special attention was paid to grass-roots participation in the neighborhood, say Thorsten Mehnert, Chairman of Stiftung Ecken Wecken, and Quentin Kügler, Project Manager Leipzig Gießt:
"An app doesn't water trees. […] The impact can be significantly increased if, in addition to the app, community-building happens as well, e.g. through accompanying campaigns and projects. We've already taken measures here with our "Water Barrels at Downpipes" campaign and the project "Nursery Kids Water Street Trees", which we're still building on."

Thorsten Mehnert und Quentin Kügler, Stiftung Ecken Wecken
With numerous innovative participation formats and direct dialog on the ground in the neighborhoods, Leipzig now enjoys very lively participation on the part of volunteers – both young and old.
Gieß den Kiez goes on a journey
Gieß den Kiez stands and falls with the open tree registry – without this data set, there can be no app. And Berlin and Leipzig are by no means the only German cities that have the pleasure of being able to draw on an open municipal tree registry. In the spring and fall of 2022, two additional cities contacted the CityLAB team about implementing Gieß the Kiez themselves. The individuals involved were Jens Winter-Hübenthal, head of OK Lab Magdeburg and Thomas Werner, Head of Open Data Coordination at the city of Münster's citeq.
"Since the project had been implemented in one other city already in the case of Leipzig, we were able to draw on experience here. The support and openness is great."

Jens Winter-Hübenthal, Head of OK Lab Magdeburg
These two cities took a similar approach to Berlin and Leipzig, looking to use the app to help civil society groups that were already actively involved.
"Gieß den Kiez (GdK) enables us to build on our existing highly successful analog project 'Münster schenkt aus', which involves the Parks Department setting up water containers in the city area so that citizens can water the trees. And the fact that GdK is open-source software as well as having relatively good documentation and a modern technology stack makes it perfect for us, because the city of Münster is looking to make use of open-source software wherever possible."

Thomas Werner, Open Data Koordination at citeq, city of Münster
Conclusion and outlook
Countless lines of code, hundreds of emails, presentations, regular sprints, and sharing formats have made Gieß the Kiez what it is today: a project born of passion that joins in the climate debate while at the same time advancing the use of open-source solutions in the urban context. On the one hand, the project has shown how relevant the topic of urban trees is. On the other hand, however, it also sheds light on hurdles in the use of open data. This is because the data set alone is not enough. What is needed is people who pursue projects with passion and a sense of purpose. Thomas Werner is lucky in that his project will be implemented through the city authorities directly, namely Münster's Parks Department, while Jens Winter-Hübenthal would like to see more support from public institutions:
"The administration haven't really put any hurdles in our way. But support hasn't exactly been forthcoming either."

Jens Winter-Hübenthal, Head of OK Lab Magdeburg
As far as the added value offered by Gieß den Kiez is concerned, all three cities ultimately agree. In Münster, the city authorities themselves have recognized the added value of the application and its great potential:
"… the digital tool Gieß den Kiez perfectly complements the Parks Department's existing initiative to enlist citizen support in watering trees. "

Thomas Werner, Open Data Koordination at citeq, city of Münster
The app is seen as a supplement and support tool in Leipzig as well:
"I don't think everyone in the city who might potentially become users of our app is aware of us yet. Even though it's probably unrealistic to think you can save trees on a large scale by watering them yourself locally, it's still a great addition to the work done by the professional watering companies. In addition, [Gieß den Kiez] creates awareness of the impact of climate change among the city's population, potentially resulting in greater engagement on other environmental issues."

Jörg Reichert, OK Lab Leipzig
While Leipzig and Magdeburg are already considering further development of the app, such as by using a gamification approach or integrating other data sets, the city of Münster is initially testing a pilot project before launching the app with a campaign in 2024.
Last year, CityLAB was in talks with the city of Paris, which is considering implementing the application in its 17th arrondissement. So Gieß den Kiezis setting off on a trip out into the big wide world: we can't wait to see where the journey will take us.
Further info:
Gieß den Kiez: www.giessdenkiez.de
User figures Dashboard: Link to Grafana
—
Leipzig Gießt: https://giessdeinviertel.codeforleipzig.de/
Magdeburg Gießt: https://www.magdeburg-giesst.de