What's the point?
Gieß den Kiez – water your neighborhood – gives engaged citizens as well as public officials a tool in which they can coordinate their tree waterings and tree care and thus save (some of) the city trees from drying out. The web-based app was born in May 2020 and visualises over 840.000 city trees of Berlin on an interactie map. By clicking on every single tree, users can not just explore the tree population of the city and get information about each tree's species, its age and water needs, they furthermore can take care and water their favorite trees within the app. Thus, users can create an account, adopt their favorite tree, and water the tree within the app to show others that they're in charge. The app invites all citizens to participate in the irrigation of our endangered tree population and is meant to be an educational tool that raises awareness for the topic of city trees.

Why is it important to water and care about trees?
The years 2017 and 2019 were particularly dry for Berlin's residents – and trees. Berlin's city trees increasingly developed drought stress symptoms and had to be felled due to prolonged drought damage, so Berlin's cityscape increasingly resembled a wasteland as it's green infrastructure suffered from ongoing climate change effects.
Gieß den Kiez aims to mitigate the climate change effects, namely rising temperatures and changing precipitation patterns, that endanger Berlin's tree population within recent years until today and furhtermore, support the local administration by facilitating voluntary work. Gieß den Kiez main target is to prevent as many trees as possible from drying out and connect existing volunteering communities of Berlin's neighborhoods by providing them a platform and the knowledge.
App functions at a glance
Overview of Berlins tree population: over 840,000 street and park trees are visualized on an interactive map.
Exploration of the tree population: For each tree, information on type, age and estimated required water quantity is stored. By using the search and filter functions, more can be learned about specific trees.
Login, water and adopt trees: Users can create a profile to water and adopt trees. Thus it's easy to indicate if they or others lastly watered a tree. Trees can be subscribed to if someone wants to water them regularly. This allows other people in the vicinity to see which trees need their attention.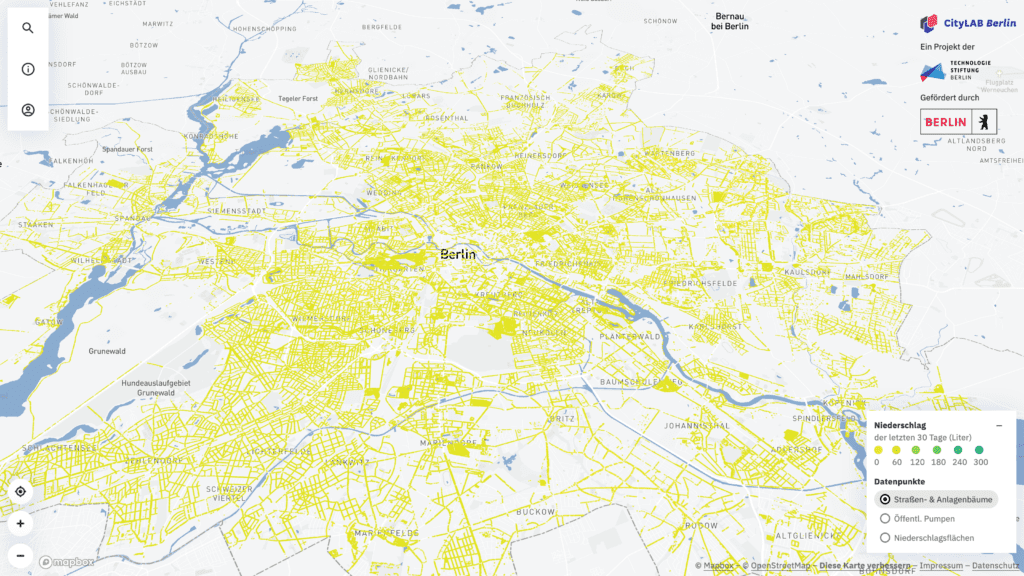 Filters, filters, filters: Users can filter the trees by their age, thei water needs (based on the age), their adoption and their watering status. Thus, you can filter easily for the most endangered tree or simply find the oldest in you neihgbourhood.
Precipitation overview: With the help of daily updated data from the German Weather Service, it is possible to display how much rainwater each tree has received within the last 30 days.
Pumps locations: Drinking water is precious! This is why the map also shows the location and functional status of over 1.600 public pumps in Berlin.
Further information: In addition, the platform contains a wealth of useful information on correct irrigation and tree population, as well as relevant links to recommendations from tree caring associations and loal municipalities.
How can I participate?
Tree Lovers
You can simply sign-up, water and register your irrigation online within the app. For the exchange with us and other interested people there is a public Gieß den Kiez Slack Channel in which the community (over 1000 engaged persons!) exchange knowledge, tips, pics and feedback towards the app.
Interested Cities and Municipalities
If you are interested in setting up your own Gieß den Kiez for your city, we recommend our How To on YouTube (German language only). It explains step by step how Gieß den Kiez is built and how you can adapt it:
Edit: we are proud to share that Leipzig was the first city, that forked our code on GitHub and implemented their very own version called Leipzig Gießt. Since early summer 2023 the city of Mageburg joined our path with Magdeburg gießt. Checkout our GitHub Repository and its manifold Wiki to do the same.
Public Money for Public Code 💚
Contact
App: www.giessdenkiez.de
Email contact:
Community Chat: Slack-Kanal