Background:
Berlin offers a wide range of services for people seeking counseling on issues such as drug addiction, anxiety disorders, illness, or violence. Finding social psychiatric help via the internet is difficult, however: there are so many services offered by the administration, private providers and civil society that it is often difficult to get the necessary overview. Anyone seeking psychosocial help in situations of personal crisis in Berlin will often have to click through numerous websites to find the right service. This takes time and patience – both of which very few people can muster. The new application Hilf-Mir-Berlin provides the first ever summary of the services offered by over 200 counseling centers in Berlin in a single overview. This means that with just a few clicks and by applying filter options, users can quickly find help that is appropriate to their individual needs.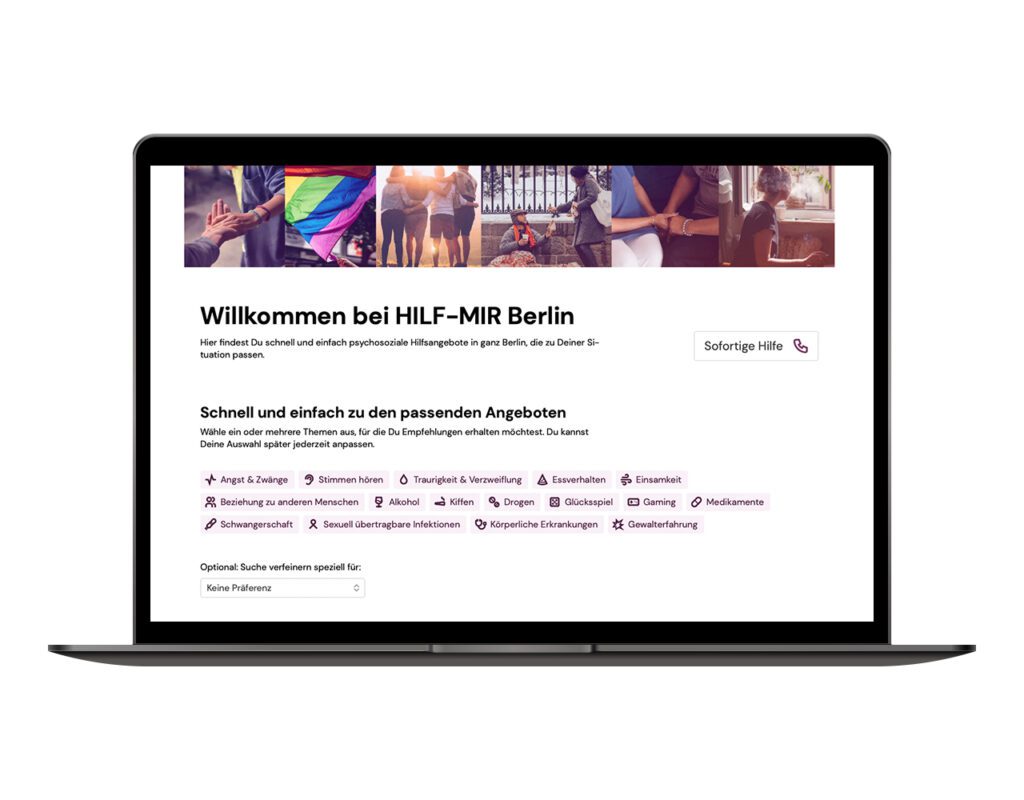 How does Hilf-Mir.Berlin work?
Hilf-Mir.Berlin offers barrier-free access to a wide range of counseling services. The mobile-first application focuses on the user, drawing on keywords to find out what the problem is, e.g. "fears and compulsions", "sadness and despair" and "loneliness" as well as experiences connected with drugs or violence. Each selection updates the number of matches found. In addition, the search can be refined by selecting a target group, such as "women", "men" or "people with a migrant background". Those seeking help have the option of sorting the search results by distance from their own location – always in line with data privacy requirements.
Next, all counseling services are clearly displayed on a map, and also sorted by relevance in the form of a list. This gives users a quick summary of which services best match their personal situation and how far away they are located. By clicking on a particular service, users can get a concise description of what is available, along with comprehensive contact details ranging from a phone number or e-mail address to barrier-free building access. The current opening hours are also shown.
Finally, a page with quick tips provides details of emergency numbers, FAQs and an address search function.
Where will it go from here?
The prototype Hilf-Mir.Berlin was developed by CityLAB Berlin with the support of the Senate Department for Science, Health, Care and Equality (SenWGPG). Initial experience of the prototype will indicate what improvements are needed to ensure help can be found more easily and more quickly in Berlin. CityLAB has developed a system based on open-source software to enable continuous technical updating of the information offered. This provides for simple data management in tabular form so as to allow Hilf-Mir.Berlin to be updated in real time.
The joint goal of SenWGPG and CityLAB Berlin: to ensure that people in problematic situations can access the appropriate contacts with as few clicks as necessary.
Website:
Involved:
CityLAB Berlin
Senatsverwaltung für Wissenschaft, Gesundheit, Pflege und Gleichstellung (SenWGPG)
Contact:
Project owner:: Ingo Hinterding ()