What is it about?
Stadtpuls ("City Pulse") is an open IoT data platform for collecting and visualising sensor data and making this data available for further use.
How loud is my street? How high is the CO2 level in my classroom? How polluted is the air right outside my front door? Stadtpuls helps explain your local environment.
Everyone can connect their own sensors (LoraWAN or HTTP) to the platform and make the measured values available to others. Everything that sensors can measure can be connected to the platform (e.g. air quality, noise, brightness, etc.). The collected data can be viewed directly on the platform or accessed as machine-readable data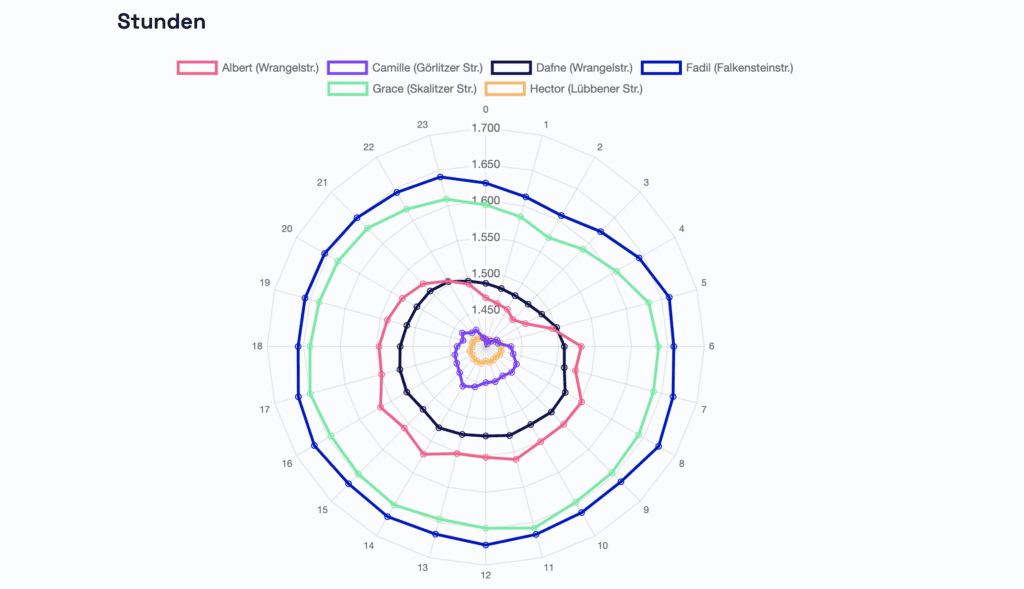 Who is Stadtpuls for?
Stadtpuls is primarily aimed at civil society, which, in the context of citizen science and data journalism, gains access to real-time data that has not previously been available in this form in Berlin. The centralisation of sensor data as well as the ease of use of the data, as enabled by a modern API, makes it possible for laypersons (for example, students working a school project) to access real-time measurements of things like temperature, CO2 content of the air, and volume. Through this provision of data, Stadtpuls complements and enriches the city of Berlin's own open data strategy.
Telling Stories with Stadtpuls
A unique feature of Stadtpuls is the ability to transform sensor data into real-time diagrams that can tell stories (the so-called "Stadtpuls Stories"). Through these vignettes, Stadtpuls builds a bridge between Citizen Science and data-based narrative formats, such as those made popular through data journalism. The stories are stand-alone websites that can be shared with others, such as via social media.
The first Stadtpuls story was created in cooperation with the ODIS team and looks at noise in the city, in this case specifically in Berlin's Wrangelkiez. A total of seven IoT sensors were placed at various locations in the neighborhood and measured the "heartbeat" of this bustling district over the course of a week.
Platform projects like Stadtpuls thrive on an active community, and as such, we're looking forward to developing Stadtpuls further with its users and exploring their stories as they measure the pulse of our vibrant city.
Website
www.stadtpuls.com
Contact