What's the issue?
Together with the Berlin ITDZ (IT Service Center), we're organizing a diary study at Ausbildungsbürgeramt Friedrichshain-Kreuzberg (Citizen's Office vocational training department).
The aim of the project is to gain a more in-depth understanding of the work and processes involved in administration and to improve user-friendliness. The chosen methodology allows for an open-ended approach.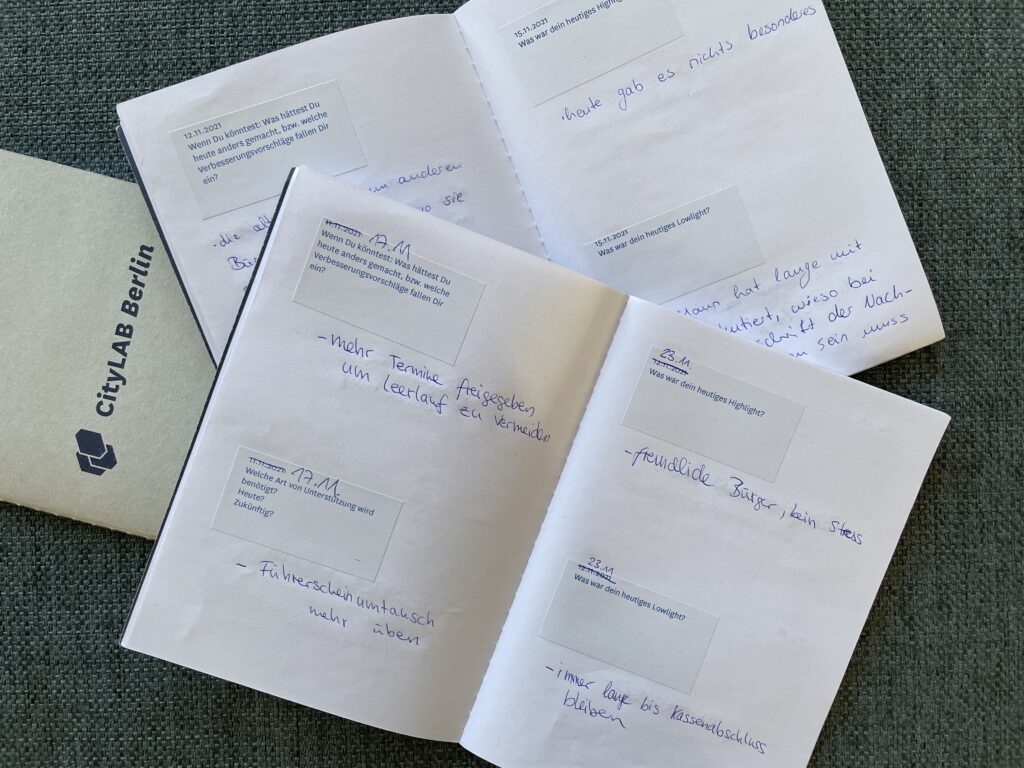 What we're doing
Over the period November – December 2021, six trainees, one male trainer and one female trainee at the Ausbildungsbürgeramt Friedrichshain-Kreuzberg (Citizens' Office vocational training department) kept a diary to make a detailed record of their day-to-day work.
This was followed by shadowing: an observer accompanied another person as they went about their job, observing what they did. In this way, the shadower gains insights into the activities and methods of the person being shadowed – though without intervening in the process.
The second component of shadowing is a citizen survey. Interviews are conducted with people before they enter the Bürgeramt so as to find out about their expectations of the service they are about to make use of. They're then interviewed again at the end of their visit. Among other things, the aim is to find out how satisfied they are with the service, whether they could imagine it being offered online, and why they don't make use of services that are already available online.
Where do we go from here?
The diaries are currently being analyzed and the shadowing concept is being developed together with the Ausbildungsbürgeramt and the management of the Citizens' Office. The findings are to be incorporated in a strategy paper that will aim to make Citizens' Offices more user-centered in the future.
Who's involved?
Ausbildungsamt Friedrichshain-Kreuzberg
ITDZ (IT Service Center)
CityLAB Berlin
Contact
Project Manager: Tobias Witt