The team of the Open Data Information Service (ODIS) shows Berlin's residents and administrators what open data is capable of and in particular the amazing possibilities it offers. Their vision: a city in which citizens and visitors to Berlin have unrestricted access to urban data and can benefit from its use. To this end, ODIS is working together with the Berlin administration, advising on the use of open data and the potential it offers the city. This collaboration has already given rise to data highlights such as the Open Household Data Tool and the Refreshment Map for Berlin. 
Now ODIS has managed another coup in the pre-Christmas season – the Berlin Christmas Market Finder! This is a map that shows over 60 Christmas markets in Berlin complete with opening hours, admission prices, special promotions and travel options. In this interview, Lisa Stubert, Klemens Maget, Hans Hack and Anna Meide of the ODIS team talk about how the development came about, where the data comes from – and whether you can fall in love with open data.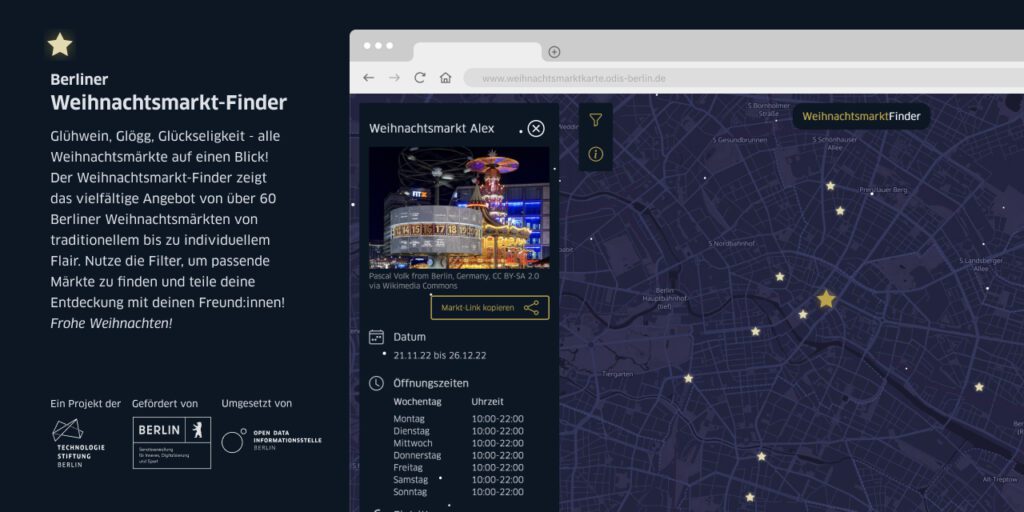 How did you come up with the idea of developing the Berlin Christmas Market Finder?
Lisa: The application was born out of a hobby project because I've been wanting a good interactive overview of Christmas markets for a while now. Various websites offer good information and also thematic lists of markets, but mostly you have to click through a whole lot of pages. This isn't very user-friendly, especially if you're looking for a specific date or time. It resulted in me missing out on great markets in my neighborhood, because I simply lacked a good summary of the information.
That's why I often ended up going to the same one or two Christmas markets every year. So the Christmas Market Finder is also intended as an impetus to explore new and less well-known markets.
Klemens: Every year, the Senate Department for Economics, Energy and Public Enterprises (SenWEB) provides an open data set on Berlin Christmas markets. This year, we wanted to take the opportunity to show that even a dataset that may not seem particularly interesting at first glance can actually be used to create a great application that people can derive a lot of pleasure from.
Anna: We conceived of the application on a "mobile first" basis right from the outset so as to make sure it would work well on a smartphone. Our goal was to provide a quick, convenient and easy way of finding an open Christmas market nearby in just a few clicks.
Where did the open data come from and how did you process it?
Klemens: The data is published annually by SenWEB during the Christmas market season. A SenWEB employee researches the data on the Christmas markets from September onwards. We were told that the process of researching and collecting the data was very time-consuming, so our next step is actually going to involve taking a look at how we might streamline the data collection process and data quality in future years.
Hans: The data is subsequently made available on a website for open data sets in Berlin. We started by investing quite a lot of time in being able to display the data on a map and make it filterable. We researched the exact locations and read through the descriptions to find out about the specific details of the Christmas markets and their opening hours. And we also came up with a certain logic as to how to record deviations from the regular closing times.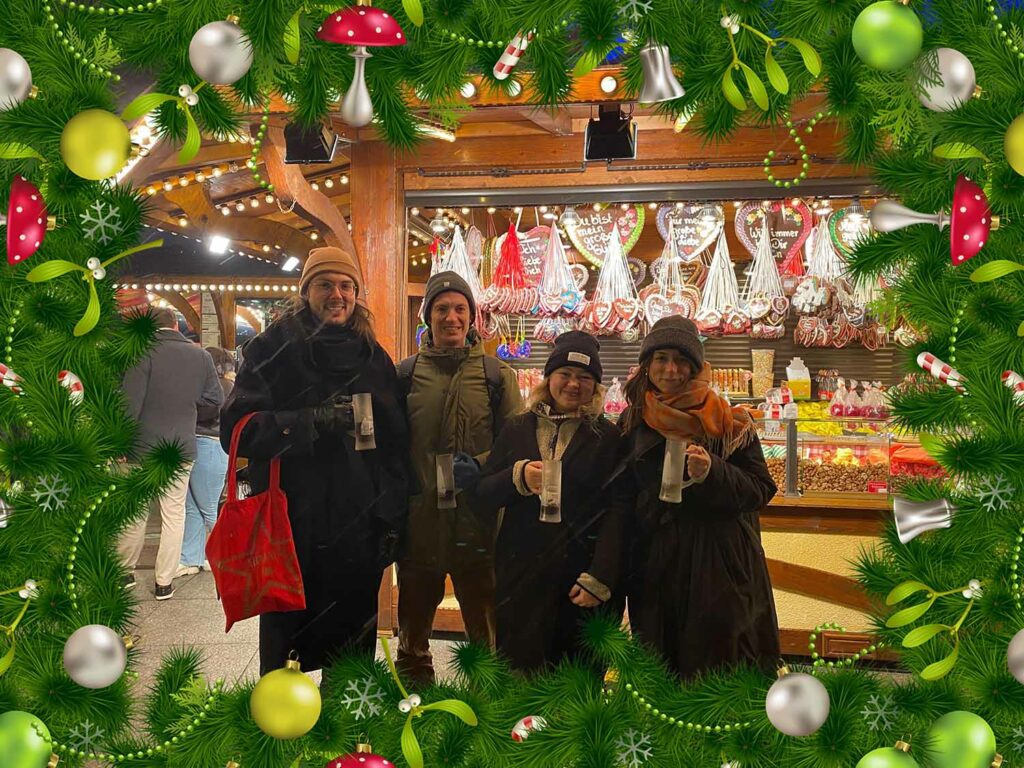 How much time did it take you to develop the Christmas Market Finder?
Lisa: As soon as the 2022 data became available in early November, we rounded up the ODIS team and ran a two-week sprint to conceptualize, design, and program the application. Of course we had other ideas about how to elaborate the map further, too, but we also wanted to put it out quickly and see what kind of response it would get. This also follows the open source idea behind the whole thing: the code for the Finder is public, so anyone can work on it and contribute ideas.
How did you go about developing it?
Klemens: We started with an internal ideation (editor's note: process for finding, developing and communicating ideas) to gather ideas about what we could do with the data. It quickly emerged that we needed filter functions to help us find our way through the numerous Christmas markets in Berlin. Which days do the markets open on? Where can I find special offers, which ones are free? From the very beginning, we also wanted to integrate other open data in the application, so we looked at which data might be useful in the context of going to a Christmas market. In addition, we really wanted to include a snow button – to be sure to get the right festive atmosphere.
Anna: The visual user interface (editor's note: UI for short; user-oriented design of online applications) was designed in several iteration loops. We tried out different variations of color combinations, icons and UI elements until we came up with the right design for us as a team.
Hans: The development process was also accelerated by the fact that we were able to draw on existing CityLAB open-source projects. We were able to make use of some of the code directly here, so we had to do less adapting.
What makes the tool special from a technical point of view, do you think?
Lisa: The entire tool is open source, so anyone can copy the code and develop it further. We were curious to see whether other cities would pick up on the project – and that has actually already happened in Leipzig.
There they're now in the process of making the Christmas market data available in machine-readable form: unlike Berlin, the data set there is not yet publicly available.
And of course you don't have to stick to Christmas markets alone: with some adaptation, you could theoretically take the code to present completely different data themes on a map.
Open data: a favorite passion or something to be handled with caution?
Klemens: A favorite passion of course, though the quality of open data on the Open Data portal is mixed. But we didn't let this deter us and we were able to demonstrate once again that open data offers great potential – especially for a center of business and tourism like Berlin. And ultimately, Christmas markets also benefit from the fact that it's easier and more convenient to find them via this type of application.
Anna: Unfortunately, it still often happens that open data first has to be cleansed manually so that it can be used for new applications. The structure of the records is often not designed to be machine readable.
With the Berlin Christmas Market Finder, we've often received feedback that the data was incomplete and that markets were missing. And we've been able to respond to this productively by putting market operators in contact with the appropriate body that collects the data.
Lisa: But when we were processing the data, we once again discovered that the issue of data quality is still a major sticking point when it comes to open data. You can't generalize here of course, but we do know from our day-to-day work at ODIS that open data relating to Berlin is frequently not available in ideal structures and formats. Nonetheless, this is precisely what we're aiming to achieve through our work on applications, namely to get talking to data providers about this issue.
Thank you for the interview and we hope you have fun discovering Berlin's Christmas markets!
To the Berlin Christmas Market Finder
---
The Berlin Christmas Market Finder is a project run by the Open Data Information Service (ODIS) in cooperation with CityLAB Berlin. ODIS is supported by the Berlin Senate Department for the Interior, Digitalization and Sports and Investitionsbank Berlin with funds from the State of Berlin and is a project run by Technologiestiftung Berlin.