Hardly any other city presents us with such a puzzle as Berlin: many different construction sites and question marks – but at least as many ideas and approaches to solutions on how to address them. We would like to bundle this knowledge once again and bring together people from Berlin's urban society, administration, science and business. We cannot promise whether we will be able to solve the "riddle of Berlin" in one day – but we will be happy to give it a try!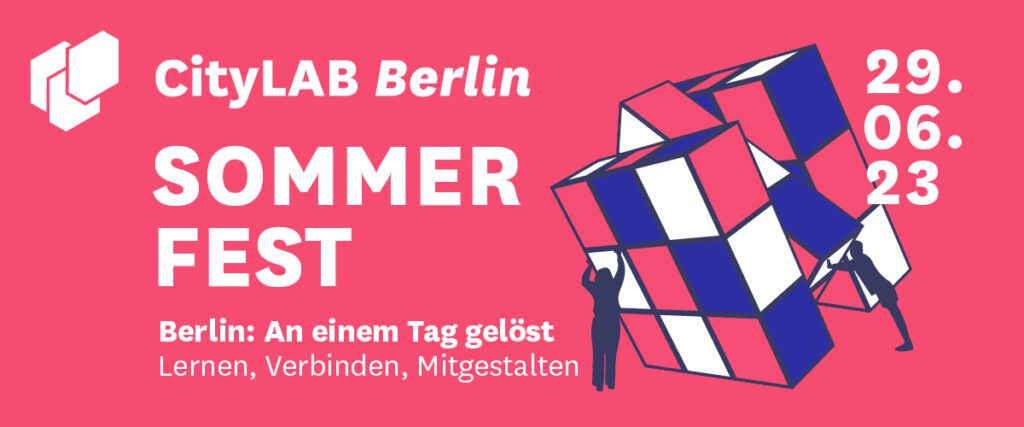 That is why, we invite you to the CityLAB Sommerfest on June 29, 2023, which will also mark our fourth anniversary. In our usual relaxed mood, we will celebrate with a wide-ranging stage and evening program consisting of workshops, keynotes, panels, and talks on all aspects of Berlin's digital transformation, and end the evening with music. The Von Greifswald site – a former freight station in Prenzlauer Berg – offers us the perfect location for this year's event.
register now
This year's CityLAB Sommerfest will once again provide a platform for the exchange of ideas and the discussion of current topics in the field of digitalization, administrative innovation, smart city and public welfare-oriented urban development. The conference, which welcomed more than 600 guests and 45 speakers in 2022, also aims to encourage learning, connecting, and co-creating, and wants people to develop sustainable and digital perspectives for Berlin together – and to get into doing and experimenting faster.
This much can be revealed at this point: panelists will include, Martina Klement (CDO Berlin), Francesca Bria (The New Institute), Laura Dornheim (CDO Munich), Jutta Lautenschlager (GovMen) Björn Unte (Team Leader IT Processes) and Prof. Dr Sascha Friesike (UDK, Weizenbaum Institute), who will be debating with Dr. Benjamin Seibel (Director of CityLAB Berlin) on the topic of bureaucracy and how it might be reduced. Fascinating impulses and keynotes will be provided by compelling individuals such as Frederike Kaltheuner (Human Rights Watch), Thomas Ramge (non-fiction author, science journalist), Geraldine de Bastion (Konnektiv/re:publica) and many more. Furthermore there will be again a LabCamp – the popular networking format for public innovation labs – and a prototyping workshop for beginners where CityLAB developers will guide participants through various formats.
A very special highlight is also the presentation of our new Kiezlabor:
The container, which has been converted into a Tiny House for digital transformation, brings the prototypical approach of CityLAB Berlin to the neighborhoods and offers a platform and playground for future-oriented ideas in the city! We welcome everyone who wants to meet the big and small challenges of the present with bold ideas and sustainable visions for the future – and use the potential of digital tools to do so. That's why we can't wait to celebrate the official launch of the Kiezlabor with our guests at the Sommerfest and look forward to exploring together!
Curious now? Then we look forward to your registration for the Sommerfest on 29 June!
Overview:
Date: 29.06.2023
Location: Von Greifswald, Lilli-Henoch-Straße 10, 10405 Berlin/Prenzlauer Berg
Time: 9:00 a.m. – 10:00 p.m., Start of programme:: 09.00 a.m., Evening program after 06.00 p.m.
S-Bahn Station: S41/42 & Tram Greifswalder Straße
register now