By Yannick Müller
Shaping the Smart City – In creative ways
A few clothes racks, shelves and light fixtures were left over from the previous tenant of a store space in the Wilma-Arkaden shopping mall in Berlin-Wilmersdorf. These were repurposed as modular furniture, seating, display and work spaces. Based on an initiative pursued by the Berlin University Alliance and dedicated students at TU Berlin, the temporary test site Mall Anders was created – a space that invited students to immerse themselves in a wide variety of subjects and academic disciplines. The idea behind the project was to try out transdisciplinary perspectives and knowledge transfer: what happens when science and scholarship leave the university or research institution and embark on an experiment of this kind?
With our own exhibition at CityLAB at the former Tempelhof Airport, we aim is to bring the digital city to life and enabling people to experience it at first hand. This is why we were happy to accept the invitation to spend three days at Mall Anders in June for three days with projects run by Technologiestiftung Berlin and CityLAB so as to be able to let off creative steam. In discussions, surveys and games, we received lots of constructive feedback from Berlin's diverse urban society. We'd now like to share our experience at Mall Anders and: we hope to see you again soon!
Helping to shape digitalization
We first organized a keynote presentation to provide an overview of current projects. One of the fundamental ideas behind CityLAB is that innovation and participation are pursued in combination. Administration and urban society work together to come up with solutions for digital Berlin. Everyone is invited to contribute ideas and get Berlin fit for the future. Through projects such as Gieß den Kiez and Digital Vereint we've not only been able to demonstrate this but also explain our prototypical approach. We also present the research project QTrees:QTrees, which enables efficient and targeted greenery maintenance based on AI.
Visitors were mainly interested in who can contribute ideas and how we organize participation. The answer: everyone is welcome to visit us and contribute ideas and solutions – indeed, this is what most of our activities seek to promote. We're always coming up with new ways of getting people involved, from outreach participation – such as a draw via the civil register – to the possibility of commenting online on the results of processes. We visit organizations and invite people to drop by and see us in Tempelhof. Our open source code can be developed and copied by anyone, and people can contribute their own projects, too. The doors are open – to you. To Berlin.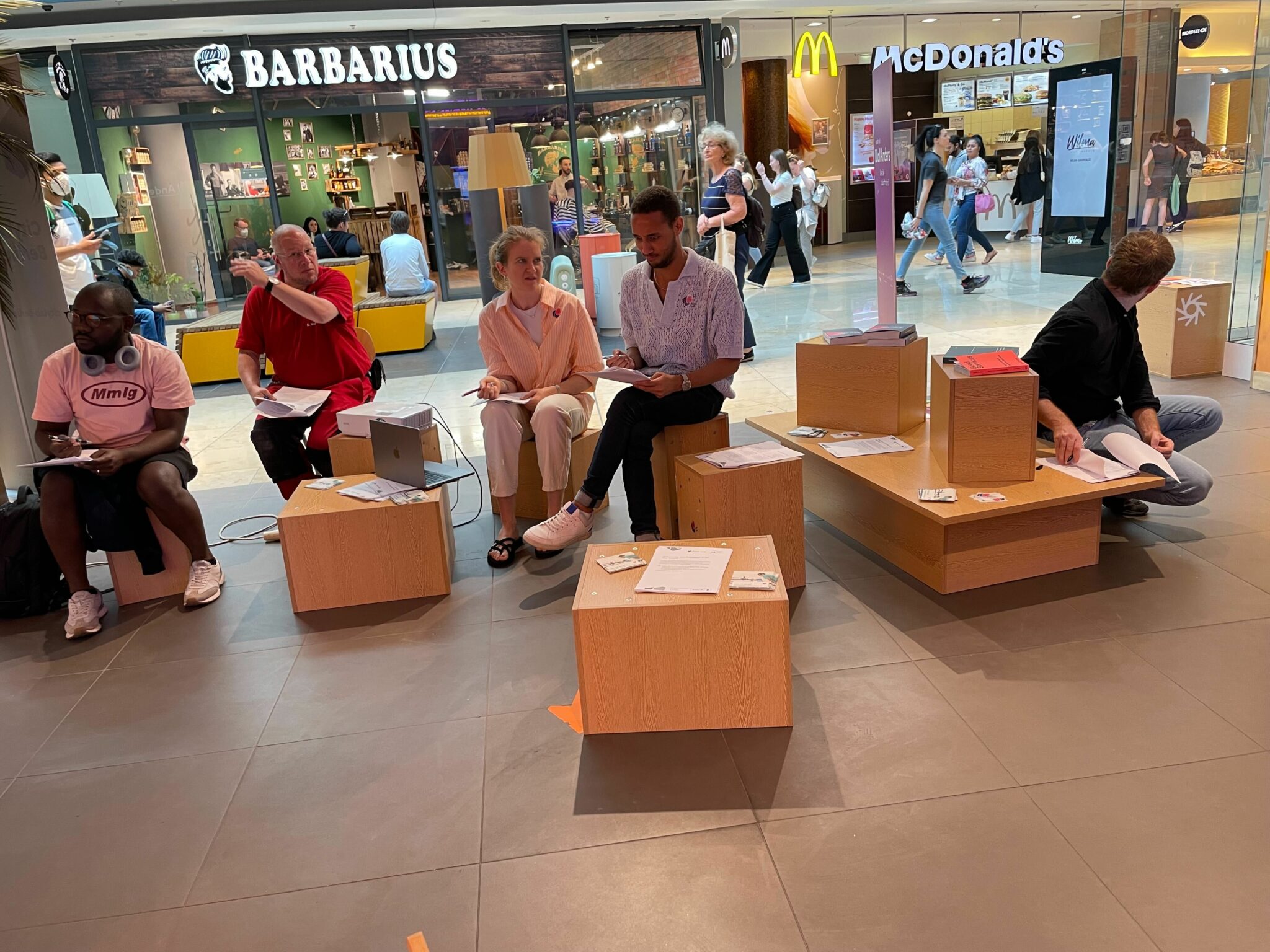 A day dedicated to open data and open cities
We asked how familiar visitors were with the subject of open data and invited them to vote – on a whole range of issues including e-charging stations, bike thefts, water pumps and ping pong tables. Used correctly, open data sets can have great potential and make urban design more transparent. The team of the Open Data Information Service Berlin (ODIS) co-designed the space dedicated to presenting data differently for a change – through the shopping mall project Mall Anders. One project exhibited was the Refreshment Map, for example. This can be used to find cool places, swimming spots and places to sit in streets and parks. Visitors shared with us which data sets they themselves would find interesting, such as those showing the availability of ping pong tables, water quality, and bicycle hangers. In this way, we were able to tie in with a number of real-life issues as well as vividly demonstrating what can be found in open administrative data. The visual presentation and the possibility of sharing ideas aroused great interest among visitors.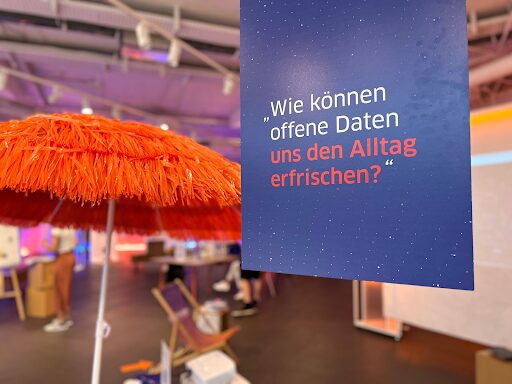 "I found the visit to the mall fascinating for us at ODIS as an opportunity to get out of our open data bubble and engage in direct dialog with citizens. A lot of people are not yet familiar with the subject, or have only vague ideas about it. So it's been helpful in that we're constantly having to find new approaches to explaining open data – although that's actually a nice challenge, too."

– Klemens Maget, Research Associate, ODIS
Three friends and the mobility transition
Since very few mall visitors want to devote their attention to movement data and digital privacy on a shopping trip, our team working on the transdisciplinary research project freemove simply invited visitors take part in a round of Mario Kart. Having found their way to the topic of mobility via a detour, mall visitors were then able to understand what data we constantly produce based on the day-to-day lives of three friends – when we ride to the lake on a rental bike, for example, or rent a car to pick up a shelf ordered through the online classified ads. Data protection expert Markus Sperl explained why this data is worth protecting. This makes it easier to understand what smartphones are up to in your pocket, when location tracking is problematic, and why we still need these functions for a sustainable future. Movement data is often siphoned off without informed consent and reused commercially – but it is rarely shared with administrators and urban planners to serve a meaningful purpose. Visitors to the mall were not aware of these aspects, and it was almost impossible to offer a conclusive answer to many of the questions that arose. Do I even want someone to be able to pinpoint my location? What about optimizing business models? Is the situation different when it comes to donating data for the purpose of sustainable mobility?
Privacy is an asset worth protecting, and we wanted to discuss it with society at large. We certainly found out that it is possible to vividly convey technical complexities through narratives. Science communication can have an impact beyond the "interested public".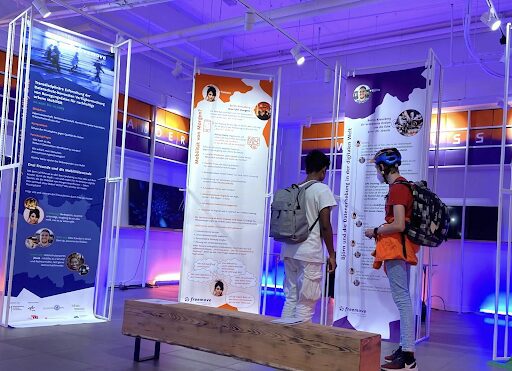 "The conversations with passers-by were enlightening. While citizens are rarely aware of tracking, everyone still seemed to have a vague sense of being "transparent" as a result of the data collection carried out by large tech corporations. People tend to be resigned and believe that the efforts of a research project don't seem to stand much of a chance when faced with the market power of global corporations. These are the questions the project needs to address."

– Markus Sperl, Project Management freemove
On the way to the smart city
CityLAB has been coordinating the participation process for the new Smart City strategy on behalf of the Senate Chancellery for more than a year now. The focus here is on the people of Berlin themselves. This was demonstrated by such things as the broad participation and various forms of cooperation. For this project, too, the Smart City team prepared and presented the goals and selected measures being pursued under for Smart City strategy in connection with Mall Anders: in addition to an extensive exhibition of graphics, there was an opportunity to join the ongoing online commentary on site. There was also a keynote talk followed by a discussion, giving mall visitors the chance to critically question the concept of the "smart city". We were asked several times what "smart" actually means for Berlin. The idea is that technologies and digital solutions are to contribute to our goals for Berlin, i.e. enable smart decisions and not serve as an end in themselves. This includes new forms of learning, collaboration, and the question of how community-based projects can make our city more attractive and sustainable. Let's explore the future of digital Berlin together!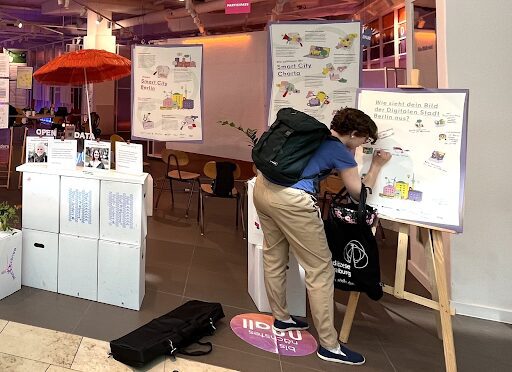 "Berlin as a smart city is supposed to be happening in our urban space – so it was great to get out of CityLAB and into the mall at Mall Anders"

– Niklas Kossow, Project Coordination Smart City, CityLAB Berlin